By: Rob Youness, General Manager, Anvil Paints & Coatings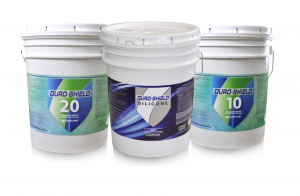 Acrylic Coatings
Acrylic coatings were originally developed in the 1970's to provide ultra-violet protection for sprayed urethane foam applications. These types of coatings are now used across a variety of roof membrane surfaces, including single-ply membranes and metal systems. Acrylic based materials provide excellent resistance to UV radiation and have the inherent flexibility required to withstand dimensional instability of most roof membrane surfaces.
While acrylic coatings offer easy installation and a cost-effective solution for building owners looking to prolong the life of their existing roofing system, there are limitations that must be taken into account. Acrylic coatings cannot be applied in freezing temperatures, ponding water or when precipitation (rain, snow, ice, dew) may occur within a specified period from application. Cure time of these products is highly weather dependent and cold weather or high humidity will impede curing. Ideal curing takes place with warm weather and low humidity.
Silicone Coatings
Silicone coatings are manufactured with a high solids dispersion of up to 100% silicone. In the last decade, silicone coatings have gained market share in the commercial roofing market due to their excellent weather and ponding water resistance, as well as their long-term flexible properties. Other coating systems typically cannot withstand prolonged periods of ponding water, which makes silicone a low-maintenance solution.
Duro-Shield™ Coatings
Duro-Last® is proud to offer our contractors a full range of commercial roofing solutions, including silicone and acrylic coating systems.
Duro-Shield Silicone is a silicone-based roof coating designed to resist natural weathering while providing long-lasting watertight protection. Featuring 98% total solids by volume, a minimum of 15 mils of coverage when dry, as well as 5-, 10-, 15-, and 20-Year Limited Warranty options, Duro-Shield Silicone provides a premium weathertight barrier for a variety of roofing applications. Additionally, Duro-Shield Silicone is available in bright white, tan, and gray color options to meet a variety of aesthetic needs.
Duro-Shield Acrylic Roof Coatings are 100% elastomeric acrylic, and are designed to seal and protect a variety of substrates with positive drainage. With 50.3% total solids by volume, a minimum of 16 mils of coverage when dry, and 5- or 10-Year Limited Warranty options, Duro-Shield 10 provides a cost-effective option for revitalizing the performance of commercial roofing systems.
To learn more about how you can use Duro-Shield coating solutions to enhance your next project, visit www.duro-last.com/duroshield.