Duro-Last®, Inc. is committed to providing our customers with industry-leading products and services for all of their commercial roofing projects. As we continue to expand our roofing system solutions, we are pleased to announce that the following items are now in stock and available for purchase through Duro-Last.
Duro-Last® Roof Pavers
Duro-Last Roof Pavers are heavy-duty interlocking 24-inch by 24-inch pavers that protect Duro-Last Roofing Systems – as well as other types of roofing systems – from damage due to excessive traffic and maintenance work. They can also be used for rooftop patios, work areas or other high-traffic rooftop situations. Made from recycled vinyl, Duro-Last Roof Pavers can be installed over Duro-Last and Duro-Tuff® membranes. They are constructed with a half-inch thick top layer and a half-inch thick bottom layer, and the bottom layer includes interlocking tabs along the edges as well as channels for water flow.


Duro-Last® ProTerm™
Duro-Last ProTerm is a preformed, recycled PVC used to retrofit multiple types of metal wall configurations for easier installation of Duro-Last wall terminations. ProTerm comes in three standard sizes as shown to the right, and features include:

Recycled PVC
Pre-applied mastic strip with release paper
Creates flat termination surface
Eliminates the need to cut wood blocks
Available in custom-profiles – contact the Duro-Last Technical Services team for more information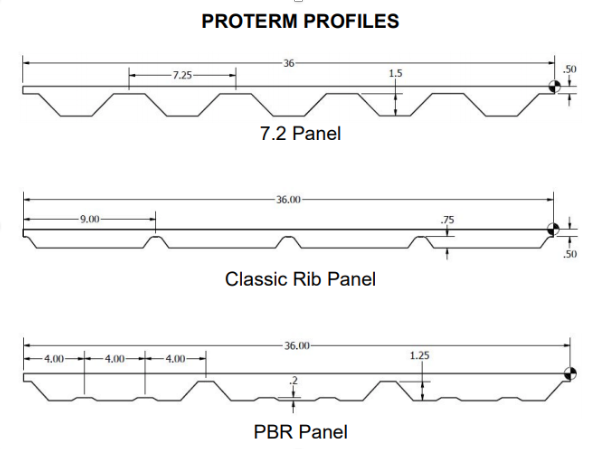 KnuckleHead Rooftop Support Systems
KnuckleHead Rooftop Lite Pipe Support System:KnuckleHead Lite Pipe Supports are designed for a wide variety of roof applications including PVC condensation pipes, electrical conduit, and other types of lines. The KnuckleHead Lite Pipe System can support a single 1.315—inch outside diameter pipe or two 0.840—inch outside diameter pipes.
KnuckleHead Rooftop Heavy Pipe Support System: KnuckleHead Heavy Pipe Supports are designed for a wide variety of roof support applications including natural gas and water pipelines, and other types of pipes up to 3" outside diameter.
KnuckleHead Rooftop Strut Support System:Strut Supports are designed for a wide variety of applications including air conditioning units, solar panels, oversized pipes and other HVAC equipment that is to be installed on commercial roofs. Strut Supports are designed to accommodate standard metal struts which can provide a framework for keeping equipment elevated off the roof's surface.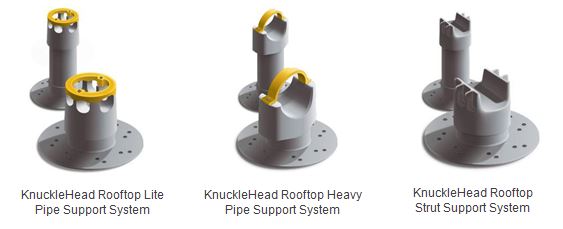 Each KnuckleHead can support up to 600 lbs. Units can be spaced to evenly distribute the load of the heaviest equipment. KnuckleHead extensions are available for raising roof-mounted pipes and equipment to higher elevations up to 18". KnuckleHeads are lightweight, so they add little to total roof load, preventing low points and depressions that invite ponding water and ice build-up.
Product Data Sheets and details for each of the products listed above can be found in the Duro-Last Specification database, available on the Duro-Last website at specs.duro-last.com. For more information and to place an order today, please contact the Duro-Last sales team at 800-248-0280.