By: Kayla Schlicker, Sales Development Manager
As spring approaches, the roofing season is right on our heels. Take this time to prepare your sales and estimating teams, and give them a leg up on the competition! Duro-Last® offers a variety of tools to help you give the most comprehensive and professional proposals to your customers; while the roofing season is waiting to get underway, schedule time with your team to familiarize yourself with these tools and integrate them into your daily activities.
The Duro-Last Specification Generator is a free tool available on the Duro-Last website under the "Technical" menu and on the Contractor Portal under the "Engineering" menu. This generator creates custom 3-part specifications for your roofing projects in an easy to use format. Specification reports are available in proprietary and generic format for projects that require proposals without specific brand information included.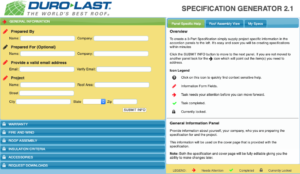 Additionally, Duro-Last offers a free Uplift Pressure and Fastening Pattern Generator on the Contractor Portal under the "Engineering" menu. This tool enables users to determine the expected wind uplift pressures on a roof as well as the fastening patterns required to attach the roof system to resist these pressures.
Within the Contractor Portal, you can also find the Quick Estimating Tool, Duro-Shield™ Coatings Calculator, and the ESQ (Engineering Services Questionnaire) – which allows you to request a quote, wind calculation, or presentation drawings from our Engineering Services team.
Each of these tools were created and made available specifically to assist our contractors in the planning of their projects – take this time to familiarize yourself with their capabilities so you can utilize them to the fullest potential when you hit the ground running in the upcoming roofing season.
If you need assistance with setting up your Contractor Portal account or navigating through the online tools, contact the Duro-Last Sales Development team today at 800-248-0280 or [email protected].