By: Mitch Guettler, Director of Quality Assurance and Warranty Services
Duro-Last honored 40 contractors with the 2018 A+ Service Award at the National Sales Seminar in Orlando.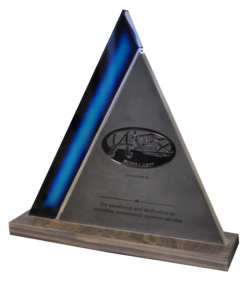 The A+ Service Award recognizes contractors that participate in the A+ Service Contractor Program through Duro-Last, which was designed to oversee post-installation service requests by building owners. Authorized Duro-Last contractors that participate in the program are eligible for the award if they complete repairs by the expected date, provide before and after photos of the repair, submit a report to Duro-Last within 24 hours of repair, and invoice Duro-Last within ten days of the repair.
We hope to continue growing the A+ Service Contractor Program and recognize even more contractors for their A+ service at next year's Seminar! If you are interested in learning more about the program and participating, contact your Quality Assurance Regional Manager to get started.
Please join me in congratulating the following contractors on earning the first ever A+ Service Award:
Fischer's, Inc. – New Orleans, LA
Ace Roofing, Inc. – Lafayette, LA
Ciaccio Roofing – Omaha, NE
Reynolds Construction Co. – White Hall, AR
J.G. Roofing & Construction – Chilliwack, BC
Colorado Commercial Roofing, Inc. – Colorado Springs, CO
Goodman Roofing LTD – Red Deer, AB
Goodman Roofing (Calgary) LTD – Airdrie, AB
Frank Fiala Roofing, Inc. – Pleasanton, CA
McDonnell Roofing, Inc. – Anaheim, CA
Broken Arrow, Inc.  – Tooele, UT
Premium Roof Services – Spring Valley, CA
Alternative Roofing Systems – Snohomish, WA
Harrison Roofing Company, Inc. – San Angelo, TX
Prime Source Construction – Burleson, TX
Mako Contracting & Roofing – Spring, TX
B &M Roofing Contractors – Rocky Mount, NC
Etheridge Roofing – Wilson, NC
Dempsey Roofing Company – Lakeland, FL
DCI – West Palm Beach, FL
K2 Summit – Deerfield Beach, FL
Leak Solutions – Birmingham, AL
Old South – Wetumpka, AL
Fortified Roofing – Anderson, SC
CMS Roofing, LLC – Irma, SC
C.E. Davis Contracting – Ford City, PA
Moser Roofing Solutions, LLC – Lancaster, PA
Saco Roofing – Saco, ME
Zimmer Roofing and Construction – Port Huron, MI
Roof Management Company, Inc. – Farmington Hills, MI
Superior Services RSH, Inc. – Lansing, MI
Overhead Inc. – Toledo, OH
Damschroder Roofing, LTD – Freemont, OH
Hermitage Roofing Company, Inc. – Ashland, VA
United Roofing Contractors – Middletown, VA
International Construction & Roof – Norfolk, VA
S & S Services, LLC – Hilham, TN
Royalty Roofing – Seymour, IN
Team Chateau Contracting, LLC – Annapolis, MD