By: Tim Hart, Vice President of Western Operations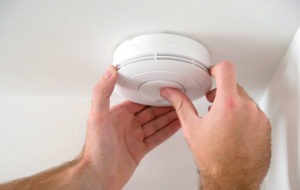 At Duro-Last®, the safety of our employees and contractor partners is of the utmost importance to us – whether they're on the job or at home. As we move into the height of winter season and rely more on heaters and fireplaces to keep us warm, a strong understanding of fire safety is critical – now more than ever.
According to the National Fire Protection Association, fire departments across the country respond to an average of one home fire every 86 seconds. You can help protect yourself and your family from the deadly dangers of house fires by completing one simple task before you go to bed each night – close your bedroom doors. Watch the fascinating video below to see just how quickly a fire can spread, and how you can help keep yourself safe.
It's also important to regularly check all of your smoke alarms and replace the batteries every six months! Let's all start 2019 on a safe note and take some time over the holiday season to check the smoke alarms in our homes and businesses.
For additional information and resources on fire safety, visit the National Fire Protection Association website at www.nfpa.org