By: Melissa Lee, Communications Manager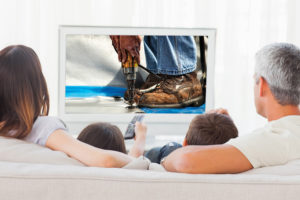 While traditional advertising practices are trending out in favor of digital engagement opportunities, a variety of business owners still find value in television spots in their local markets. If you're interested in developing a television campaign with your local stations, be sure to follow the guidelines below for the best opportunity to see a return on your investment:
Timing Is Everything
Just as the roofing industry has peak seasons, so does the television industry. It's important to be mindful of the time of year your ad will be running – peak viewership season means more opportunities for your ad to be seen. The best times of year to run a television ad campaign are spring and fall seasons – programming is typically running new content at this time and viewership is high. Keep in mind seasonal programming content as well – fall is football season across the United States, and securing a sports package placement has the potential to earn valuable time in front of key audiences such as building owners, business owners, facility managers, etc.
Branding with a Budget
While reaching your target audience is paramount to the success of an advertising campaign, it's important to understand that there are significant costs associated with peak viewership seasons and times. Television advertising fees are tied directly to viewership numbers – with more people watching television during peak seasons, special events and evening hours, costs during these times trend upward due to the increased advertising demand. Since many companies can't afford to run enough ads during peak slots to generate significant recognition and interest, station representatives have the ability to develop placement schedules that use your budget wisely during peak viewership while still reaching segments of your desired audience during off-peak hours.
Invest in a Scheduled Package
Advertising of any kind does not work if you only secure a one-time placement. This is especially true of television ads where there is no information for viewers to refer back to after the video has aired. When investing in a television placement, use your overall budget as a starting point for determining the length and frequency that you want the campaign to run. The more frequently your ad appears, the higher the likelihood that people will remember your messaging. However, the more frequently your ad appears, the quicker your budget gets eaten up. Consider implementing a "flighted" schedule where your ads are shown frequently during a condensed period of time, driving up viewer recognition, then stepping back for a couple of weeks. This helps to efficiently stretch your budget while still driving viewership numbers. Ultimately, you'll want to share as much budget and strategy information as possible with the station representative that you work with, and they can help develop a placement schedule that fits your needs.
Messaging
Keep it simple. The average attention span for an adult brain hovers right around 6 seconds. Anything more than that, and the message gets lost. That means your commercial needs to be concise and memorable. If 15-second ad spots are an option through your local stations opt for those, otherwise, keep it to 30 seconds and under. Determine exactly what you want the audience to do after seeing your ad – call your office to get a quote, visit the website for more information, schedule a consultation, etc. – and use your airtime to grab their attention and motivate them to follow through.
Get Social
The brands with the most successful campaigns combine traditional and digital advertising together, sharing a common message across mediums and driving to the desired action. As with television advertising, video ads on digital platforms must remain concise – 10 seconds and under – and have a clear call to action. Take advantage of the sponsored video placements on popular social channels like Facebook and YouTube, which provide a cost-effective opportunity to enhance your television advertising and engage with current and potential customers. Plus digital placements provide real-time analytics that are useful for understanding how your message is being consumed, allowing for quick adjustments and targeting that reaches the audience you want.
Audience Awareness
No matter what type of campaign you decide to run, your target audience and message should always be your main focus. If your goal is to attract more business owners to contact you for roofing projects, an ad placed during the evening news or a weekend sporting event will perform much better than an ad placed during a mid-day talk show program. Understanding the key habits of your audience and how to resonate with them can make or break the success of an advertising campaign.
Finally, don't forget that advertising activities like television placements may be eligible for reimbursement through your AMP-Up funds! Be sure to check your available AMP-Up balance and visit the Duro-Last Storefront for additional resources – including pre-made videos that can be downloaded and sent to the commercial production team.