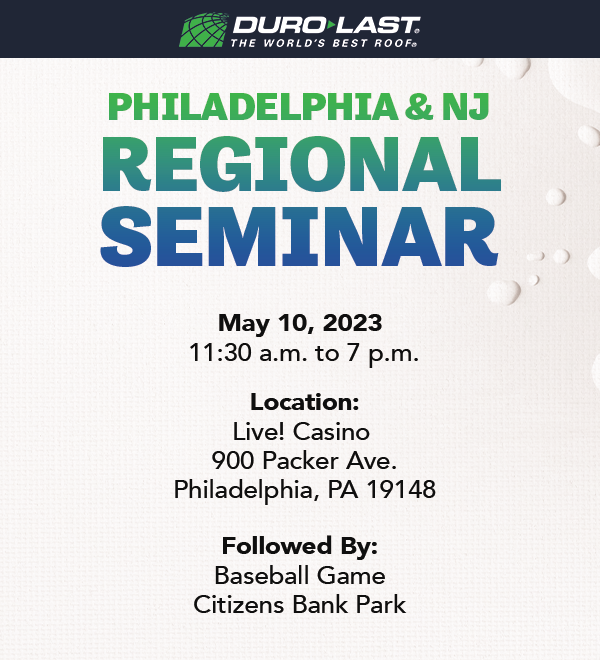 Join Us!
We are taking our 2023 Sales Seminar from California to Philadelphia, and replacing the Hollywood Walk of Fame with a 19-foot-high replica of the Liberty Bell outside Citizens Bank Park. The Philadelphia Regional Seminar kicks off with lunch at Live! Casino and Hotel Philadelphia, and then we will dive in to all that's new (or improving!) at Duro-Last®. Perhaps the best part of attending a regional seminar is networking! There will be plenty of time to connect with fellow attendees while taking in a ball game – the Philadelphia Phillies against the Toronto Blue Jays. This great event features informative sessions and an amazing setting to network and prepare for the roofing season ahead! Register early, as space is limited.
Seminar At-a-Glance 11:30 a.m. to 7 p.m.
11:30 a.m. to 12:30 p.m.
Arrival and Lunch
12:30 to 12:45 p.m.
Welcome
Safety Message
Introductions
Industry Update
12:45 to 3:30 p.m.
EXCEPTIONAL® Metals
Duro-LifeTM 600 Roofing System and New Systems
DLX TM
Insulation Update
Adhesives/VE Projects
TruFast Presentation
Contractor Portal Enhancements
Holcim Adhesives
QA/ Tech Sales Introduction
Marketing Lead Generation
Product Review
CAB/EL/RCAB
Company Update
Round Table/Discussion
4:05 p.m.
Phillies v. Blue Jays
---
Register by Wednesday, May 3
---
Parking at Live! Casino and Hotel Philadelphia

Parking is available on Darien Street in the self-park garage or on 10th Street on the surface lot. 
An event fee of $30 will be charged for anyone parking after 1:30 p.m. because of the baseball game starting at 4:30 p.m. at Citizens Bank Park.